COVID-19 Back to Work
Assessments and Reviews
Plans and Reports
Let's Get Back to Work Safely
We all want to get back to work! But in the pre-vaccine world, you need a partner familiar with the safety requirements of every industry. Our analysis of COVID work plans is based on the recommendations of leading epidemiologists, experts and industry white papers. Every industry is different, and we have the detailed knowledge to edit and assess required plans and protocols so that you can provide a safe working environment.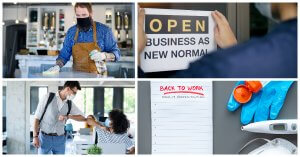 In accordance with these plans, our review process addresses the following critical areas of concern:
Infection control
Physical distancing
Training and education
Protecting specific demographics of the workforce
Management concerns unique to each industry
Our staff has also been at the forefront of helping clients in different industries and governments, project the quantitative reality of COVID. We can offer statistical projections of infection risk by county in real time, providing a significant improvement over publicly available lagging indicators like confirmed cases and COVID deaths.
 We are familiar with the white papers and back-to-work frameworks proposed by OSHA, SAG-AFTRA, ATU, & UWU among others.