How to measure anything in
public policy and social impact
DATE: Thursday, november 7th, 2019
TIME: 12:00PM – 3:00PM CST (UTC-5)
COST: $150
Hubbard Research
LEARN HOW TO deliver more impact for public policy and social impact initiatives – and better serve your communities
For decades, social sector leaders have wanted to know exactly how much good their policies and strategies are accomplishing. But social impact – the benefit policies and philanthropic efforts give to their beneficiaries –  can be notoriously difficult to quantify.
The good news: social impact measurement is easier than commonly believed — all it takes is a better understanding of what measurement is and what it can do for us.
Based on the principles espoused in Doug Hubbard's book How to Measure Anything: Finding the Value of Intangibles in Business and practiced by Hubbard Decision Research (HDR), this three-hour webinar covers how to measure–and forecast–social impact with justified confidence.
Better measurements can help build models to simulate and forecast policy or program performance; demonstrate the value of an initiative to board members, elected officials, or the public; support budget and fundraising decisions; and improve the overall effectiveness of any initiative – even before the initiative ever begins. 
In this webinar, you'll learn:
How the most important decision leaders will make is how to make measurably better decisions
How a failure to invest in measurement can lead to bad social sector decisions with often-adverse and harmful outcomes
The three reasons why anything ever appears to be "immeasurable" – and how these reasons are all myths
How anything, even "intangibles," can be properly measured
Simple ways to find out what information is valuable and worth measuring – and what isn't
What next steps you can take to incorporate more advanced concepts and improve their analysis
Participants will also learn how HDR used these principles to create a model to determine the impact of an ecological restoration project conducted by the United Nations Environmental Programme (UNEP) and make key recommendations toward the program's success.
After this training, webinar attendees will have practical tools to immediately begin measuring social impact for better policy outcomes – and a better society.
the purpose
why measuring social impact is critical for any program's success
Measuring success in the public and nonprofit sectors has been difficult to say the least, because not all initiatives have clearly-defined, easily-quantifiable metrics of success. What's worse is that the initiatives that do have quantifiable metrics still don't answer the key question decision-makers and stakeholders want to know: what's the actual impact beyond simple figures? How were people actually affected? How can we show that their lives were measurably improved? 
 Answering these questions requires finding answers to more specific  questions that can prove impact, such as:
What are the chances that our drug intervention program will reduce drug use and relapse – and how much of a reduction will we see?
What specific goal are we trying to achieve with our famine relief program, and how do we measure if we reached it?
How can we allocate our donation budget in the most optimal way for the most good – and what does "good" mean, practically speaking?
What is a better way to measure how well our education policies are improving learning in our K-12 programs? 
Can we forecast changes in demographics in a given area beyond the basic data that the government produces (or beyond what we produce)? If we can, how much is that improvement worth?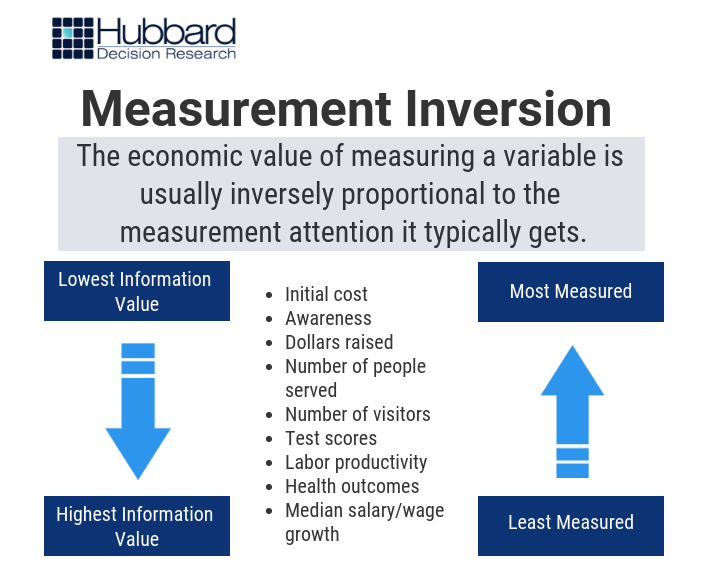 Being unable to answer these questions with solid, empirical proof often leads to smaller budgets, dissatisfied stakeholders (like voters, officials, and donors), poorer outcomes for constituents, and job instability. If a program isn't working, after all, why continue to fund it – and the jobs of those who are in charge of it?
And as the above figure shows, often what we think should be measured has little to no value, and what has the most value often goes unmeasured. 
Learning how to measure social impact in a scientific way, using proven quantitative methods, can avoid those pain points and create better outcomes for those who you serve.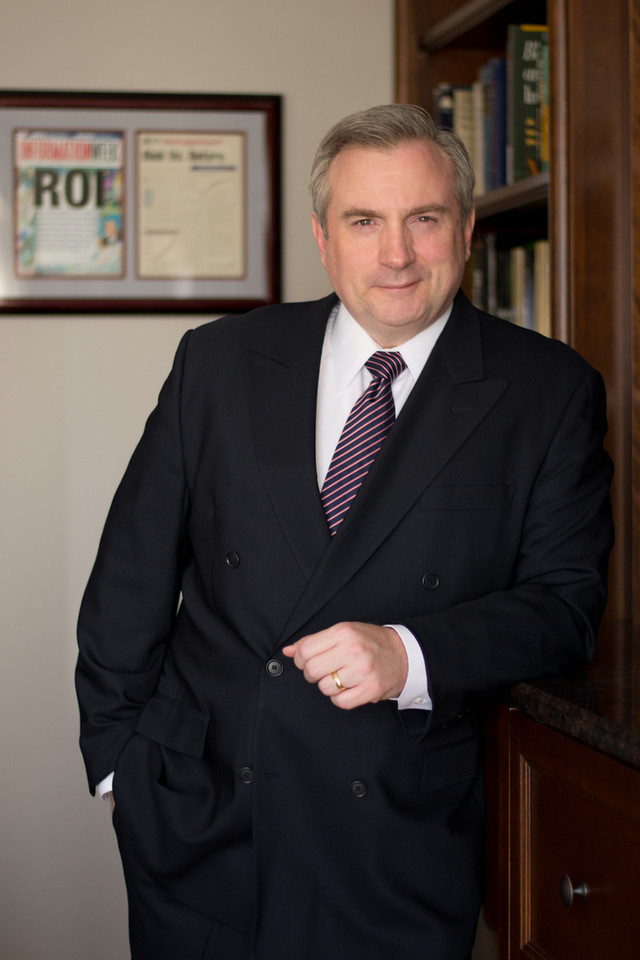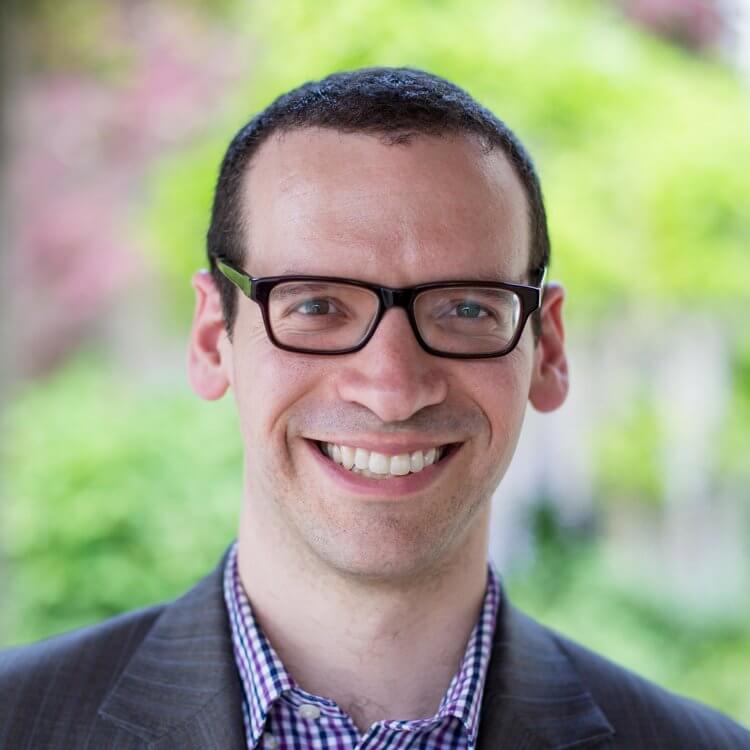 the presenters
doug hubbard
Mr. Hubbard is the inventor of the powerful Applied Information Economics (AIE) method.  His management consulting career started 30 years ago with Coopers & Lybrand, focusing on the application of quantitative methods. The last 20 years he has completed over 100 projects for the application of AIE to solve current business issues in many areas including IT benefits and risks including cybersecurity, engineering risks, market forecasts for pharma and medical devices, environmental policy, mergers & acquisitions, Silicon Valley startups, the likelihood of success of new movies, and military logistics to name a few.  His AIE methodology has received critical praise from Gartner, Forrester, and others.
He is the author of the following books (all published with Wiley, between 2007 and 2016):
How to Measure Anything: Finding the Value of Intangibles in Business (one of the all-time, best-selling books in business math)
The Failure of Risk Management: Why It's Broken and How to Fix It
Pulse: The New Science of Harnessing Internet Buzz to Track Threats and Opportunities
How to Measure Anything in Cybersecurity Risk (co-authored with Richard Seiersen)
His books have sold over 140,000 copies in eight languages and are used as textbooks in dozens of university courses including the graduate level. Three of his books are required reading for the Society of Actuaries exam prep, and he is the only author with more than one on the list. In addition to his books, Mr. Hubbard is published in the prestigious science journal Nature as well as publications as varied as The American Statistician, CIO Magazine, Information Week, DBMS Magazine, Architecture Boston, OR/MS Today and Analytics Magazine.
ian david moss
Ian David Moss has helped philanthropists, investors, governments, and knowledge infrastructure organizations distribute more than $100 million to improve people's lives around the world. He specializes in aligning strategy to evidence and making knowledge come alive in the decision-making process, offering services such as research synthesis, metrics development, and decision modeling. He has worked with institutions such as Democracy Fund and the International Rescue Committee to develop organization-wide systems and habits supporting smart decision-making, strategic learning, and risk management.
One of the social sector's leading practitioners of theory of change, Ian co-created the William and Flora Hewlett Foundation's first-ever theory of change for the performing arts and has developed theories of change for numerous other entities including the State Government of Victoria (Australia), American Civil Liberties Union, the Doris Duke Charitable Foundation, City of Boston, and his own life.
Prior to opening his consulting practice, Ian was part of the leadership team for more than seven years at Fractured Atlas, a nonprofit technology company offering business and productivity tools to more than 1.2 million creative entrepreneurs worldwide. For ten years, Ian also led a think tank synthesizing research on important issues in arts and culture. A five-time social entrepreneur, his successful ventures have won awards and inspired three spinoff organizations and a doctoral dissertation. He holds BA and MBA degrees from Yale University and is based in New York.

Hubbard Decision Research (HDR) is a risk management consulting firm that applies quantitative analysis methods to the most difficult measurements and challenging decisions across many industries and professions. Using Applied Information Economics, HDR has developed quantitative analysis solutions to information technology investments, military logistics, entertainment media, major policy decisions, and business operations, for clients ranging from small businesses to Fortune 500 companies, state and federal government, international corporations, and more.  More information can be found at hubbardresearch.com. Ian David Moss helps people make smarter decisions to improve the world. He works with investors, philanthropists, and civic leaders to design programs that better the lives of constituents and embed opportunities for learning and continuous improvement into organizational culture, guiding the distribution of more than $100 million to date. A five-time social entrepreneur, his successful ventures have won awards and inspired three spinoff organizations and a doctoral dissertation.
Contact Us
REGISTER FOR WEBINAR