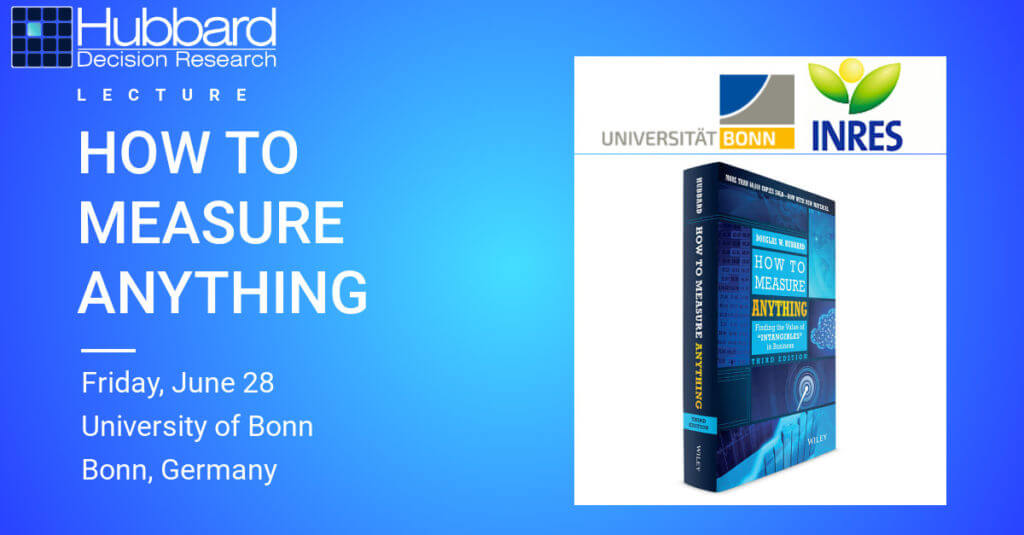 Many things seem impossible to measure – so-called "intangibles" like employee engagement, innovation, customer satisfaction, transparency, and more – but with the right mindset and approach, you can measure anything. That's the lesson of Doug's book How to Measure Anything: Finding the Value of Intangibles in Business, and that's the focus of his public lecture at the University of Bonn in Bonn, Germany on June 28, 2019.
In this lecture, Doug will discuss:
Three misconceptions that keep people from measuring what they should measure, and how to overcome them;
Why some common "quantitative" methods – including many based on subjective expert judgment – are ineffective;
How an organization can use practical statistical methods shown by scientific research to be more effective than anything else.
The lecture is hosted by the university's Institute of Crop Science and Resource Conservation, which studies how to improve agriculture practices in Germany and around the world. Doug previously worked in this area when he helped the United Nations Environmental Program (UNEP) determine how to measure the impact of and modify restoration efforts in the Mongolian desert. You can view that report here. You can also view the official page for the lecture on the university's website here.